Start with all skills Grandmastered (100.0).
You can raise all skills to 140 on 2 characters per account.
Macro skills unattended or you can buy them with Gold.
We have The Fastest Skill Gains possible.
Evolution Pets include Mercenarys (outfit your merc with our custom gear sets and rule the world), Dragons, Nightmares, Hiryu's, Frenzied Ostards, and Swamp Dragons.
We have a fully spawned world with ALL FACETS including TRAMMEL with Stygian Abyss and High Seas.
Plenty of custom items and mobs for you to enjoy.
You are allowed 2 accounts per IP & 2 houses for each acct.
Daily Events held by a active dedicated staff.
Friendly and helpful established player base waiting to welcome you.
We offer PVP (player vs player) and PVM (player vs monster).
You can access our Servers Forums from within the game by command.
We also have our own Ventrilo for players to use.
We utilize Time Warner Cables Road-Runner Premium Gamers Class Internet Speeds on a brand new Dedicated Server with world saves that are .05 of a second.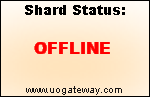 To play on SFU you need to request a account via Facebook, you can Message us here.